Clubbing hard and being unafraid of failure are two features of Iam Etefia. Ironic, right, but these two things are essential features of who the man Iam Etefia is.

Driven by empathy and an urgency to build value, his most recent startup, Peniremit, is proof of this as he works to 'help people stay financially fit. In other words, Iam and his team love to see people bag financial wins.
Thanks for reading The Boss Approach! Subscribe for free to receive new posts and support my work.✓
Of course, his inspiration for creating Peniremit, which uses technology to help people keep and grow their money, came from his personal experience of 'sapa' (a Nigerian term for lack of funds). This was even though he was earning a huge paycheck in the blockchain and tech industry but somehow wasn't being financially responsible.
According to him, he was using the money 'to either buy lots of things he didn't need, host parties or help people around him. Now, there's nothing wrong with helping people, but it is important to note that this must not be done to the detriment of yourself—a person who can't swim cannot save a drowning man.
He recognized that poor money management was a huge problem for him and many people around him, so he created a tech-driven solution.
His partnership with Essien Ekanem birthed an idea that targets anyone who wants to use a tech solution to maintain financial discipline.
Peniremit isn't Iam's first company; he had built a digital marketing company some years back but couldn't scale it. He has picked up the lessons from that experience and is applying them painstakingly in building Peniremit.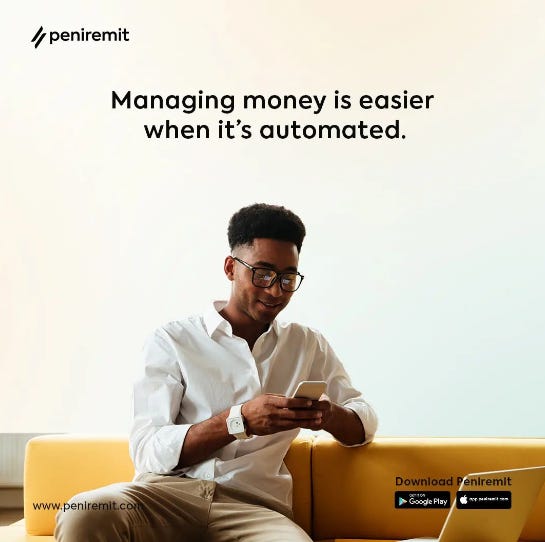 Bringing it home to the peculiarity of running a business in Nigeria, one major challenge Iam and his team have always faced is the constant harassment from the Police and security forces, who always feel like every young person is looking good and well to do is engaged in internet fraud. This is an interesting case, and it has somehow affected what they do. They had to always tone down how they dressed or looked to avoid attracting prying eyes.
But in all, For Iam, it has been an exciting building process. Some critical lessons he picked up came from hiring and managing people. It could be a nightmare if not handled well. His staff (who call themselves the Humans of Peniremit) share a winning 'we-can-do-it-better-together' mindset which has helped them weather all storms and stay accountable.
For him, Founders should focus on building a 'solid team' and not necessarily a big team.
………………………………………………………..
Peniremit is an amazing way to manage funds. It allows you to set aside money for regular spending, and instantly payout whenever you need it. Take a look at what Peniremit is doing HERE